Today I spent the first minutes of my day with the new print issue of I ♥ FAKE , where I could find some of my pictures and a few lines about my work through an interview I answered later last year, by the time I had just started school.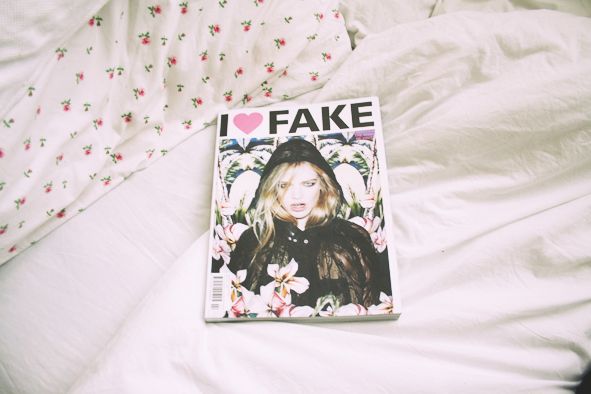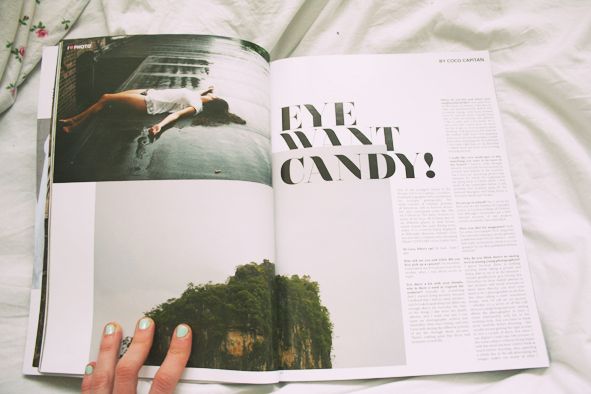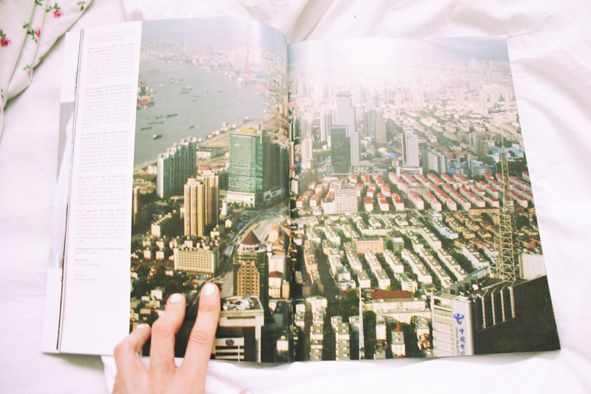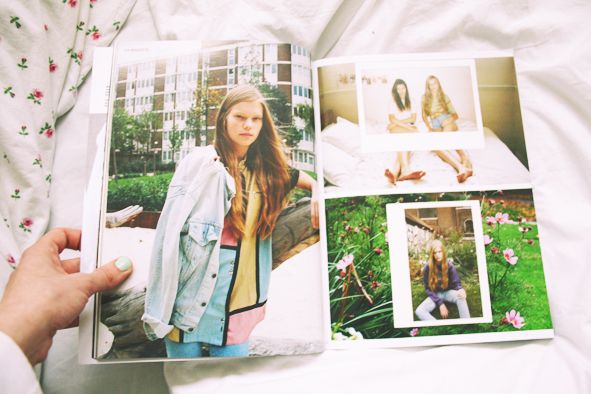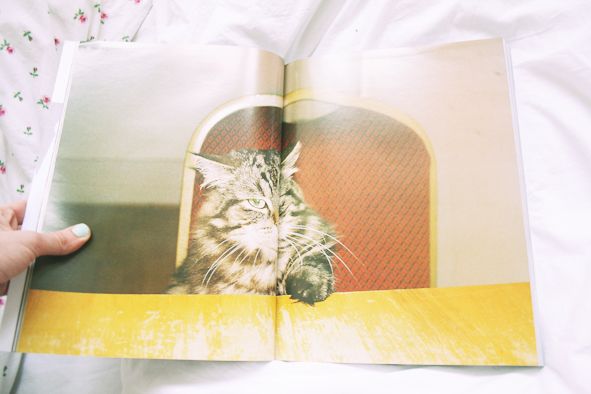 EYE WANT CANDY!
One of our youngest talent is the 18-year-old Coco Capitan, a London-based photographer with a preference for analogue photography. Her work consists of intimate portraits of friends as well as fashion shoots, but also conceptual series like The Six Collection. The latter features six series of six boys, all of them shot in six different places in their house, which remain the same during every series. It is currently being displayed in Riimäki Museum, Finland Coco has also shot a fashion series featuring fellow I LOVE FAKE talent Dasha Love.
Hi Coco, What's up?

Hi! And... here I am!
How old are you and when did you first pick up a camera?

I'm n9neteen. I remember my first picture was of my mother, when I was about seven or eight.
You shoot a lot with your friends, why is there the need to 'capture the moment'?

Actually it's something that I started doing recently, because I realised that I had so many pictures which looked appealing, but didn't say enough about my everyday life. One of the things I like most are family albums, and I hope one day I can open my photographic archive and remember what was I doing and who i was with in the different periods of my through those pictures. There's nothing quite like those
real
moments in
real
life.
Where do you live and what's your neighborhood like?

I live quite close to Old Street, in Hoxton. I like that it's calm, yet simultaneously fueled with a natural energy. with local markets close by, and the clubs I usually hang out at with my friends, the galleries I like to visit, and a few parks. It's a nice area and I don't have to travel too far to get cool locations when shooting. And just across the road, there's the student halls, that I love popping down to, to see my classmates: maybe have a beer and hanging out. It's a life-style I can enjoy right here on my door step - which saves me from a lot of tiring running around!
I really like your landscapes, is this something you want to do more in the future?

I haven't really thought about it. I'm actually focused more on portrait and fashion at the moment, but I have an upcoming project this summer, for which I'm supposed to be going back to China where I shot most of my landscapes before. I will probably feel inspired again by the beloved Shanghai and bring home a few more landscape images.
Do you go to school?

Yep, I am in my first year on a BA Fashion Photography course at London College of Fashion. And although I sometimes get a little stressed because of my outside of school projects, I am enjoying it.
Have you shot for magazines?

Yeah, for a few: VICE magazine; I'm currently waiting to see my pictures published with NYLON mexico - and I feel really enthusiastic about it as it is gonna be my first published fashion editorial.
Why do you think there's an analog revival among young photographers?

I guess because there is nothing exciting about taking a picture and being able to see it in the moment - instant gratification gets boring fast.
Now we have mobile phones to take pictures, and social networks to share them directly and you don't even need to be a photographer to do that. But when taking a more considered image (what I'd call an 'art picture' - whether it's a series of off-the-cuff shots or a single long exposure) analog allows the photographer to have a closer relationship with his/her working tools, and you have to think more carefully before shooting - this usually means getting the right picture in a couple of shoots. But when I use digital I could take 100 pictures of the same subject and not be happy with the result because I didn't think as much before shooting. Also the fact of spending a whole day in the lab, processing my images it makes me aware of what I am doing and makes me think that photography, as with any other kind of art, needs time, needs nurturing.
What sets you apart from other photographers?

I am not sure about it yet. I try and capture that teenager/young feeling that surrounds me, and attempt to give my particular vision of it - but I guess all photographers try to give their particular vision of what surrounds them. Maybe I am still too young to talk about my 'signature style' and need more introspective time and working time.
You're young and you obviously shoot what you know, which is youth. What would you like to shoot if you're older?

I can't even think about what I'm going to be shooting next month! So I can't imagine when one day I won't be a 'kid' anymore... I just hope I still can keep that child-like look in my pictures when I'm older. But that is what I think today, who knows what I'm going to think about it differently tomorrow.
Do you want to make money making pictures?

Yeah. I don't really care too much about the money, I am happy as far as I having enough to buy films, travel, pay my rent and get groceries. If I can't make money from my pictures i will have to work in something else, and that will mean less time to spent on photography. So yeah, why not to try a way of doing what i like better and making money from it?
Who would you like to work for?

I would love to assist Juergen Teller and learn from him! He's one of my favorites. Also I wish one day I can shoot a fashion campaign for
the brands that represent my view of fashion. But that still sounds to me like a dream from which i am far away from.
Coco, what do you dream about?

An empty room where there is only a door I open, and it brings me to another room with another door that I open onto another empty room with another door... I keep opening these doors again and again. It is a something I dream about at least twice a week.
Anything else that we should know about you?

I love candy!
interview by Jolijn Snijders