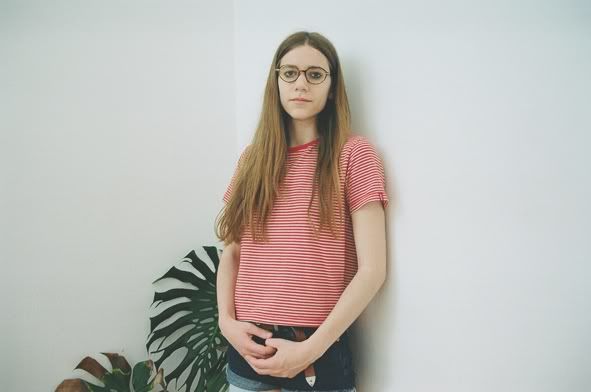 When talking about some of his images, Edward Gorey once said his subconscious had conjured them and ordered them in 'ascending peculiarity'. It was what I thought of when acknowledging my friends' references to Irina Werning on seeing the following shots, because like I told them, "I really hadn't thought of her work when shooting these." Although, what one does not necessarily see at first glance, is the one distinctly dissimilar detail to Werning's work: the younger girl in the first picture is not me, but my young friend Mina! I got to know her because she's my parents' friends daughter, and every time she comes around, my mother comments on how I resembled her (both in appearance and demeanor) when I was the same age. So when Mina came home and just happen to be wearing a t-shirt of sticking resemblance to mine, I thought: if ever there was a sign! And so it was, I set up the shot, and this is what happened.
Edward Gorey dijo una vez que su subconsciente hacía que sus ilustraciones se ordenasen y apareciesen en su mente de una forma muy peculiar. Pensé en ello tras mostrar estas dos fotos a mis amigos y me preguntasen si me había inspirado en uno de los proyectos de Irina Werning. Realmente no pensé en sus fotografías al tomar las mías, aunque ahora me doy cuenta de que tienen algo en común, y que probablemente el haber visto sus fotos previamente haya influido en mi modo de tomar estas dos. Hay, no obstante, una diferencia entre las fotografías del proyecto de esta artista y estas dos mías. En su colección de imágenes, Irina recrea en el presente fotos del pasado del modelo retratado, mientras que en este caso, la niña de la primera imagen no soy yo en mi infancia, sino mi amiga Mina.
Conocí a Mina hace tiempo. Es hija de unos amigos de mis padres, y siempre que nos encontramos, mi madre me habla de cuanto le recuerda a mí cuando yo tenía su edad.
Curiosamente, no hace mucho, estando en casa de mi madre, Mina vino a hacernos una visita y llevaba una camiseta tan parecida a la mía, que hacía que pareciese exactamente yo unos años atrás. No pude contenerme y tuve que hacernos una foto. Este fue el resultado.